You've probably spent weeks planning your Halloween costume, but have you thought of how you're going to dress up your own home? Believe it or not, you don't need to make a mad dash for the stores in order to get your space ready for the spookiest holiday of the year. Get crafty and create unique decor that gives your guests a delightful sense of foreboding. From floral elements to furniture that you can temporarily modify, there are many how-tos to get you in the spooky spirit.
Floral Skull & Skeleton Hands Centerpiece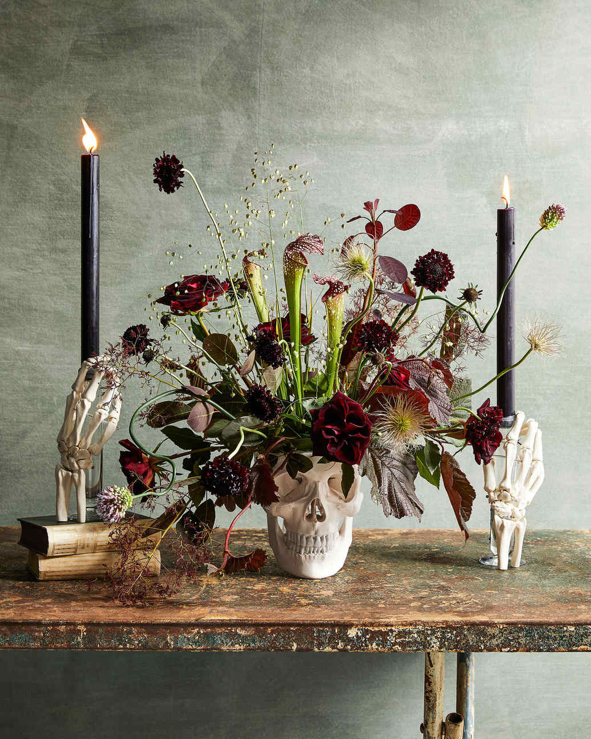 Gather your guests 'round the table with this departed decorator as the centerpiece. A grinning skull is brimming with seasonal blooms while two bony hands clutch at taper candles.
Plaster Bones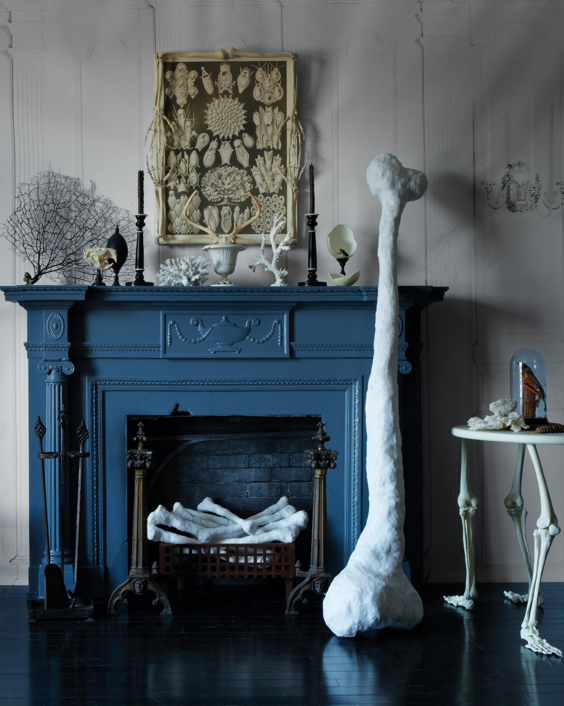 Go larger than life. This "Flintstones"-size femur and the heap of humeri posing as logs in the fireplace are made from newspaper wrapped in plaster cloth.
Decoupage Halloween Lanterns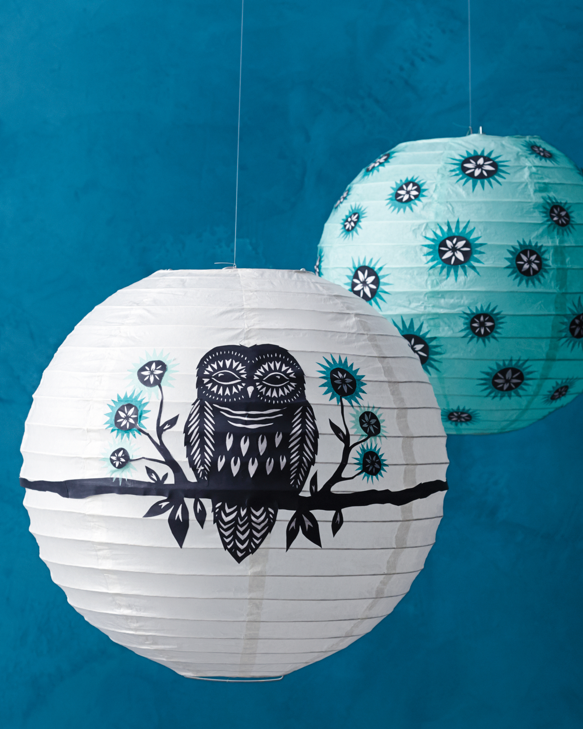 Halloween isn't all orange and black—it's a burst of bright colors and fun motifs. Bedeck a pair of paper lanterns with découpaged clip-art: owls, flowers, and star bursts.
Tattered Tablecloth & Spiderwebs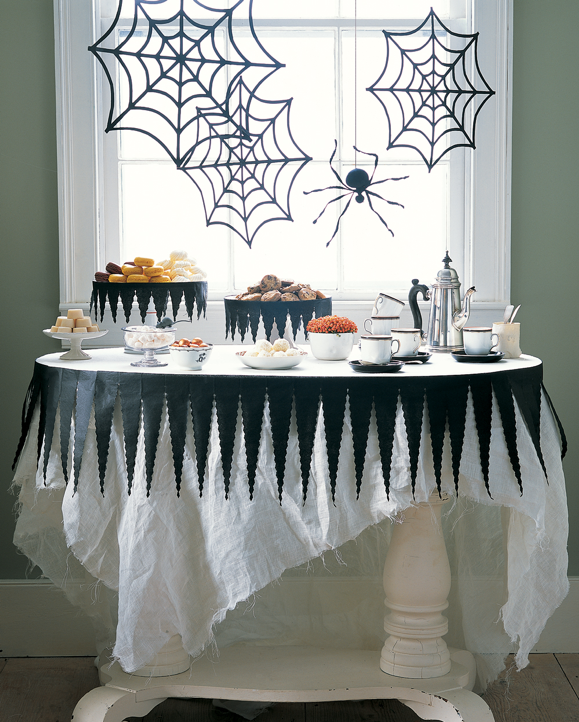 Hair-raising party decorations don't need to be costly or fussy. You can make these frightening flourishes with some inexpensive craft supplies in just a few minutes.
Creepy Candles
Cast a sinister glow over any setting with a cluster of white tapers dripping with "blood" (actually red candle wax). Fill a cup or a small pail with sand, and plant white candles inside so they stand upright. Light a red candle and tip it over the white candles so the wax drips down the tops and sides, being careful not to burn yourself. Let wax cool completely before removing candles from sand.
Decorative Skeleton Bone Table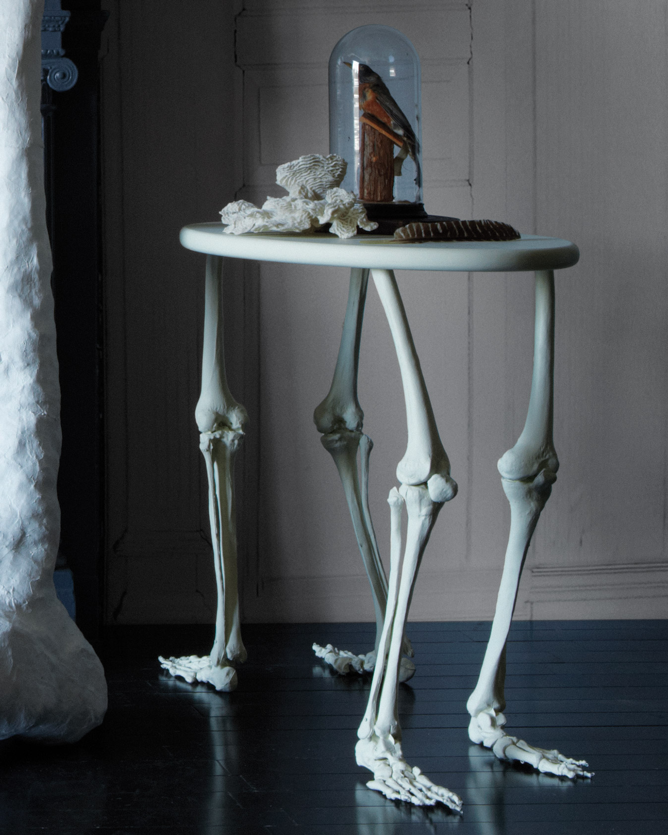 Frankenstein saw inspiration in the most grotesque of scavenging—here, we took a note from his book and constructed a bare-bones table decoration. The table legs are legs indeed—store-bought faux bones. To make it, trim the thigh bones: Use saw to cut the legs to 1 inch less than the desired table height (to account for tabletop). Next, stabilize the knees: Take each leg apart at the knee; unscrew the hardware, and remove the kneecap. Connect shin bone to thighbone with one double-threaded screw (3/16-by-3 inches). Lastly, stabilize the ankles: Position one foot so it rests flat on the floor, and generously squeeze epoxy into the hinge that makes the ankle flex. Repeat with the remaining legs. Let it dry and cure overnight at least before moving onto the next step. Attach the legs to the table: Decide where you want the legs, and drill pilot holes through tabletop. Place each leg underneath the pilot hole, then screw to attach. Put putty over the screws, and let it dry. Sand until smooth. Paint the tabletop a skeletal white.
Spooky Halloween Paper Garland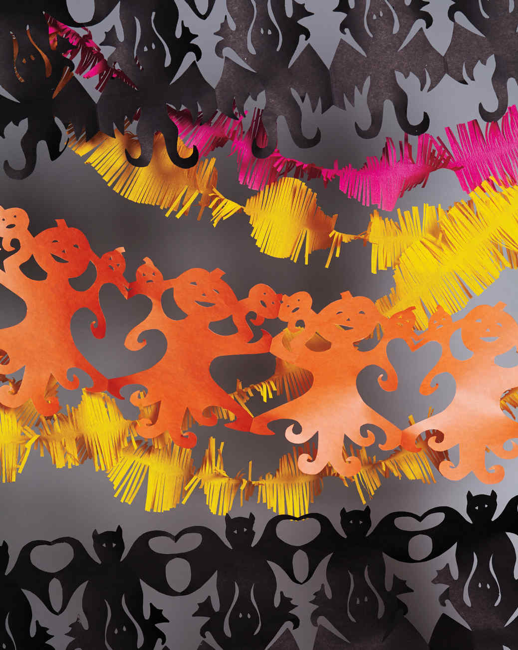 Jaunty jack-o'-lanterns, foreboding bats—these are Halloween-appropriate versions of the classic paper-doll chain. To make it, print our template onto card stock, fold the paper to its width, trace, and cut it out. Then, use scissors for the outline, and a craft knife or hole punch for facial features and smaller details. Intersperse with fringed garlands to add color.
Batty Mantels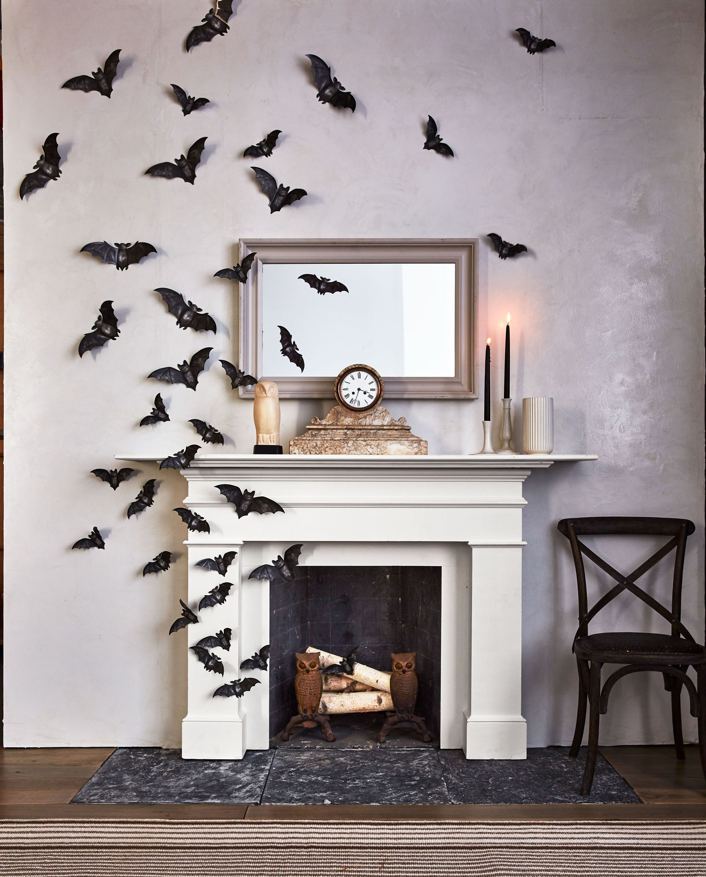 Sometimes there's safety in numbers. But this Halloween, there's fear—and fabulousness—in a flock. To summon a swarm of nocturnal nomads, use our downloadable template to cut out your own—stick on removable adhesive dots, bend the wings for extra eeriness, and let 'em loose.
Friendly Ghost Shades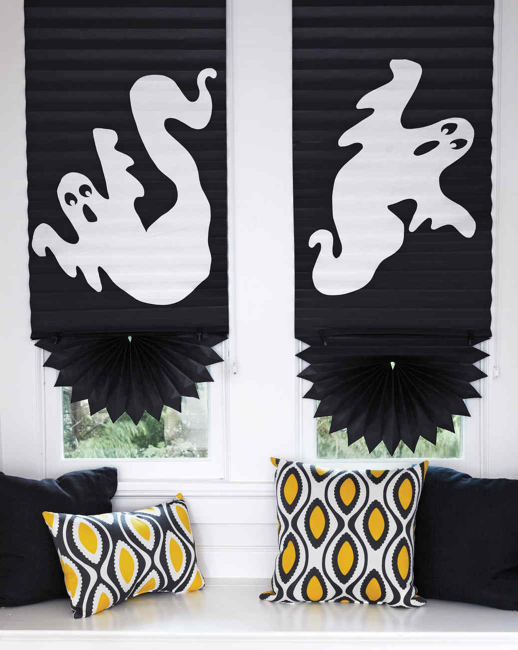 These easy, inexpensive window treatments are a spooky addition to windows for Halloween. Trim a paper window shade from a home store to fit your window, then print our templates before cutting them out and tracing them onto thin white paper (such as white kraft paper). Cut these out, and then stretch and tape your window shade flat onto a safe work surface. Spray the back of the ghost cut out with adhesive, then press it onto the shade.
Hanging Snake & Frog Vellum Lanterns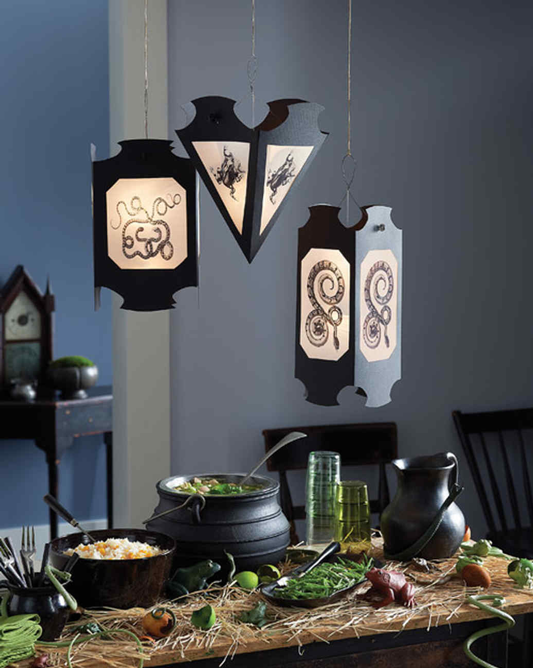 Create giant gothic lanterns using nothing more than our instructions, clip-art designs, and simple supplies. First, print out all of the following templates: this snake lantern, another spooky snake option, and the frog lantern as well. To begin, cut out one of the lantern templates, and trace it four times, side by side, on black paper. Use a bone folder to crease the areas where the sides meet before cutting it out. Print four copies of your chosen design onto vellum using a laser printer, and then cut each piece just larger than the frame's windows. Tape the vellum into a frame, and form into a lamp shape before taping the edges. To finish, cut a 26-inch length of wire and twist a loop in the middle of it; poke the wire ends through the paper to make two holes at the edge of the lantern. Use pliers to roll ends of wire to secure; and then use monofilament to hang two battery-operated votive candles, taped end to end, inside the lantern. Finally, use twine and a removable advise hanger to suspend the lantern in your chosen space.
Cheesecloth Spirits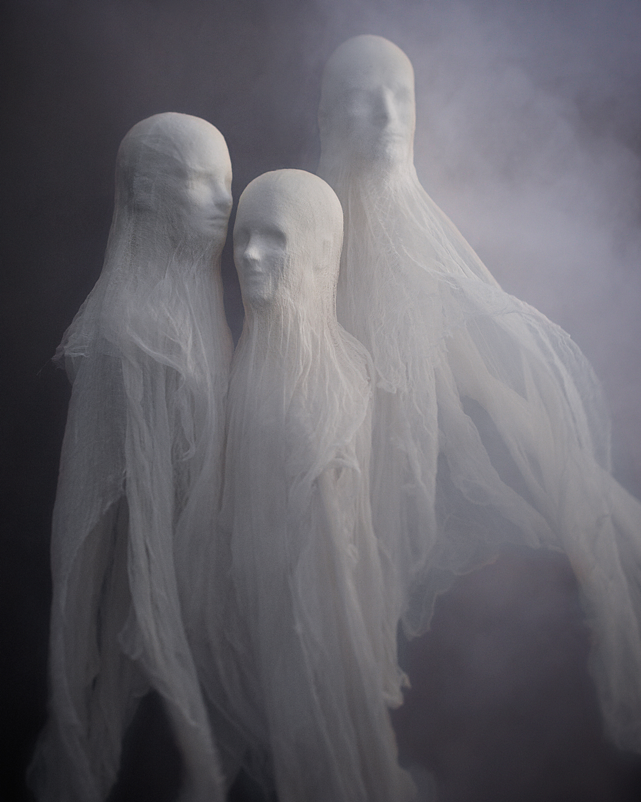 Inviting these spooky floating guests inside will keep other ghouls on their toes. Making these foreboding decorations is actually very easy—styrofoam mannequin heads are sold at wig shops, and while they can stand on their necks, suspending them lets the cloth flow freely.